I love the British Museum! When I go to the British Museum I always visit the book store. The book store used to be a mine of great books. It is now much smaller and quite disappointing to say the truth. Nevertheless, I bought this book at the British Museum. The title "The Story of Writing" was appealing to me as I am very interested in language and how humans have created the possibility to communicate while not in a face to face situation. When we are on a project, we often rely almost exclusively on writing for communicating. I have covered this question several times and my position is that it is totally foolish as writing was never intended to communicate so precisely in the first place. Anyway, I will stick to my topic today: reviewing "The Story of Writing" by Andrew Robinson.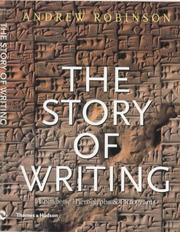 The Story of Writing
WorldCat•LibraryThing•Google Books•BookFinder
First impression
When you take this book in hand you notice the weight immediately. It is made in very thick high quality paper due to the numerous photos and illustrations. When you scan it, the impression is excellent and you want to stop at every page to have a better look.
In details
The whole book is organised around sections of 2 pages: left and right. So, in a way, wherever you open the book, you are in front of an end to end story. This construction is clever as it gives to the reader a nicely manageable pace for the reading. Each topic is generously illustrated with photos, diagrams, tables and all things necessary to make the point. The range of topics covered is simply amazing. I'll give you a few: origins of writing; sign language; pictography; cuneiform; Mayan alphabet; undeciphered scripts; runes; Cherokee alphabet; Chinese; Japanese; etc. All in all you cannot get bored with this book. It is fascinating and entertaining. I had a real great time with it. On the top of that, I can say that I have a daily use of some knowledge acquired with it. It helped me understand part of the limitation of the written language and the diversity of answers given by humans to this basic problem of distance communication. It is one of those books that keep a particular place in your library.
Conclusion
I warmly recommend The Story of Writing. Anyone interested more or less in what allows us, humans, to communicate without the incredibly strong constraint of physical contact should read this book. Not only you will find answers to most questions you may have, but you will also appreciate the logical construction and the build quality of the item.
Score:
Let's Think About IT