For once, I will not review a technical book or a study but a fiction. Not that I intend to become a reference in literature, there are far better reviewers than I for that, but this book is well related to a topic that I often talk about: cross-cultural communication. This book was given to me by my wife who knows very well my work on communication, especially cross-cultural one. I thank her for that. It is always extremely pleasant to have people around you capable of offering you the perfect book. I would probably have missed that one, had I been on my own.

The context is the following: a young woman, living in Japan, speaking Japanese fluently and knowing the country extremely well is getting a job in a Japanese company. She is not expecting the most fascinating job on earth but she clearly intends to do her best and integrate perfectly inside the company.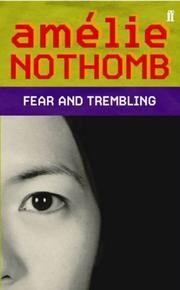 Fear and Trembling
WorldCat•LibraryThing•Google Books•BookFinder
I won't tell you about the story much more than that but I will comment on how this story appealed to me. The author is describing the daily life of someone who believed she could blend into a culture because of her excellent knowledge of the language and the country. She believes that she understands customs, habits, and practices well enough to become invisible inside the group. Of course, nothing goes as planned and her journey inside the company is fascinating. She is not Japanese and it is made very clear to her that she will never be. When I say clear, I mean she understands what is not necessarily said. She does indeed know the culture well enough to get these messages, but not well enough to achieve her goals.

Conclusion
This book is not a study of cross-cultural communication but a great way to put it in a novel. I absolutely enjoyed it from first to last page. The style is pleasant and fluid and you do not really want to put this book down once you have started it. I do recommend this book for two reasons the:

It is an excellent novel in itself and an interest in cross-cultural communication is not necessary to enjoy it;

If you are into cross-cultural communication, then you will definitely enjoy reading this novel to get a break from the other items of your library.

Go and get it! You will not regret you purchase.
Score:
Let's Think About IT